Online Therapy can be a helpful tool for counselling and psychotherapy used from a safety of your own space.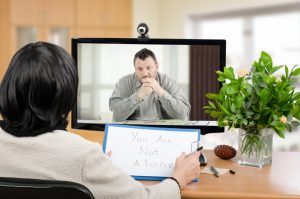 The virtual world carries new possibilities that can be used for our own benefit. Online Therapy is aimed towards people who prefer this form of communication instead of a face – to face interaction. Research studies showed that online therapy can be the same beneficial as face to face therapy including message therapy*. A meta-analysis included 92 studies that have found "an effect sizes comparable to those that have been found for face-to-face interventions"**. Different issues such as depression, anxiety, PTSD and panic disorder have been noted to be significantly reduced by online counselling ***.
Online interaction brings many benefits alongside with shortcomings that it is important to be aware of. The benefits of online counselling include:
   Higher anonymity that can contribute to increased comfort and openness around mental issues and life experiences. "Communicating on the internet can be likened to traditional contexts in which the listening party is present but invisible, such as in confessionals, where the priest sits behind a screen, as well as the psychoanalytic couch, where the analyst is seated behind the client. These modes encourage the confessor to reveal things that they might not speak so easily about face-to-face. Thus, the anonymity and physical invisibility afforded on the internet may allow clients to let go of inhibitions and reveal more to their therapists." **
   Focus on writing (email/messages) that can help to express yourself externally, take time to self-reflect on writing and organize thoughts around your own issues. Studies showed that "synchronous (existing or occurring at the same time) communications may produce more immediate, direct responses, asynchronous communications allow for greater reflection and more purposeful responses." ** Receiving written feedback can give the same benefit of reflection and unlimited access to resources needed for overcoming an issue.
   Higher control, ownership and unlimited access to the resources and feedback. "Clients can exercise higher control over the mode, frequency, and termination of their therapy sessions. The convenience and increased access to therapy have been found to compensate for the lack of physical presence" **
The disadvantages include:
   miscommunication; because of the written (texts/emails), sound (off video calls) and screen (video calls) nature of online counselling greater miscommunication can occur. It is important to be open for and to clarifications and engage in proper emotional communication exchange (emoticons, direct and clear use of words describing emotions,




patience and an effort in describing and correcting impressions if necessary




etc).

   equipment and Internet service failures that can interrupt the process,

   additional confidentiality and privacy concerns in virtual world that do not occur in face to face counselling. Internet can be more prone to risks of privacy breakage due to its fluid and worldwide accessibility.  Therefore those risks must be addressed in proper manner from both parts




equally, the client and counselor,

   some issues like suicidal issues, addiction or personality disorders might not be suitable for online therapy due to the severity of those issues.
Online Therapy is a service delivered by Reborn Clinic worldwide. Online therapy will be delivered with an use of messaging and video services.
 For video calls Skype (used encryption) and What's up (used encryption) or Zoom (private link, secured) will be used. For text therapy What's up only will be used (+353 85 715 06 99).
For emails the address renata.redyk@yahoo.ie will be used.
Online therapy is not a crisis based clinical service and is not intended for
clients who:
   have a history of major psychiatric episodes, hospitalizations or drug/alcohol dependence.

   have been diagnosed as any of the following – Borderline Personality Disorder, Major Depressive Disorder, Bipolar Disorder Type 1, Mentally Ill/Chemically Addicted (MICA), and/or Schizophrenia.

   have a history of suicidal, homicidal or violent behaviour or present issues of suicidal, homicidal or violent nature,

   search therapy due to sexual abuse,

   search therapy on eating disorders,
This service is design for dealing with:
anxiety,

depression,

OCD,

PTSD,

panic attacks,

anger management,

self – esteem,

insomnia,

relationship/family problems (not couple counselling),
  In order to start with online counselling please email me on renata.redyk@yahoo.ie or contact me on +353 85 715 06 99 for further information. Please note that an identity verification and signing the contract will be required.
Looking forward to working with you Online.
Regards
Renata
Biography
* https://telehealth.org/bibliography
** https://pdfs.semanticscholar.org/16a2/6537bfb24d710a644d9b35975fb58b5edf83.pdf
*** http://www.sciencedaily.com/releases/2013/07/130730091255.htm
*** https://www.ncbi.nlm.nih.gov/pmc/articles/PMC3677235/renata[/vc_column_text][/vc_column][/vc_row]